The Sanford Guide to Antimicrobial Therapy 2011 iPad/iPhone版下載
A+醫學百科 >> The Sanford Guide to Antimicrobial Therapy 2011 iPad/iPhone版下載
價值29.99美元的醫學寶典 [The Sanford Guide to Antimicrobial Therapy 2011]

iPad、iPhone通用

The Sanford Guide to Antimicrobial Therapy 的印刷版已經有40多年的歷史。具體看下面的說明。

1.1版是一次重大內容更新,修訂了350多個詞條,包括新藥、新的治療方法、影像和參考文獻。

115下載:http://115.com/file/dn0zj8ww#
SanfordGuide-v1.1-(null).ipa



The Sanford Guide to Antimicrobial Therapy 2011

Description
The Sanford Guide is the essential resource for healthcare professionals who care for patients with infectious diseases. The Sanford Guide to Antimicrobial Therapy 2011 application provides fast, convenient access to critical information on treatment of infectious diseases, for timely, effective decisions at the point of care. 

Always a pocket guide, still a pocket guide. Portability has been a hallmark of The Sanford Guide for over 40 years. The Sanford Guide to Antimicrobial Therapy 2011 application extends that portability to iOS4 devices: iPhone, iPod Touch and iPad. The most trusted infectious diseases treatment resource in print now presents the same comprehensive, treatment- focused coverage of infectious diseases and clinical conditions, anti-infective drug information, therapeutic adjuncts and comparative spectra of activity in a clean, uncluttered, device-optimized interface. Based on the Sanford Guide Web Edition, the application features expanded coverage of topics compared to the print edition.

Other than for the initial download and to receive updates, the application may be used fully without the need for connectivity. Maximum screen space is devoted to the display of content by limiting buttons to those considered to be most essential: Home, Back and Search. All buttons are located on the application menu bar. The Index is activated by the search button on the application menu bar. The same button also hides the keyboard for full screen display of Index topics. For more about the application and the Sanford Guide, use the Info button on the launch screen.

Content queries are begun on the launch screen using a searchable Index or four Rapid Reference categories. Diseases and Clinical Conditions are organized by type (bacterial, fungal, mycobacterial, parasitic and viral). Bacterial diseases are further organized by site of infection and organism. Drug Information is similarly organized by type. Therapeutic Adjuncts include post-exposure antimicrobial prophylaxis (e.g., hepatitis, HIV, rabies), as well as preventative prophylaxis for surgical procedures and post-transplants. Comparison Tables include activity spectra tables for bacteria, fungi and viruses. These tables are color-coded for ease of use. 

Extensive internal links provide efficient navigation to related content. For instance, drug regimens on disease pages are linked to corresponding pages for each drug containing comprehensive information on usage, dosing, adverse effects, activity, pharmacology, pharmacodynamics and drug-drug interactions. Broad topics such as meningitis and pneumonia include Overview pages with an outline and links to all sub-topics for that disease.

Literature references, e.g., PubMed abstracts and other resources, are accessible when you have an Internet connection. 

What's new in Version 1.1
This is a major content update with more than 350 revised topics, including new drugs, updated treatment recommendations, images and new literature references.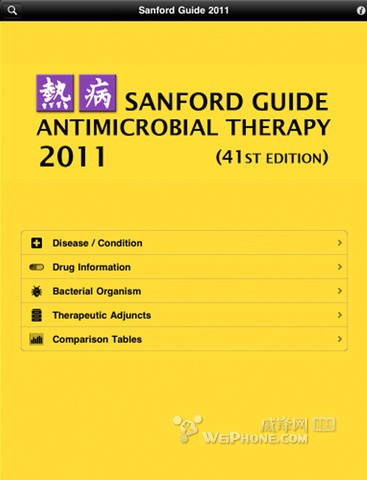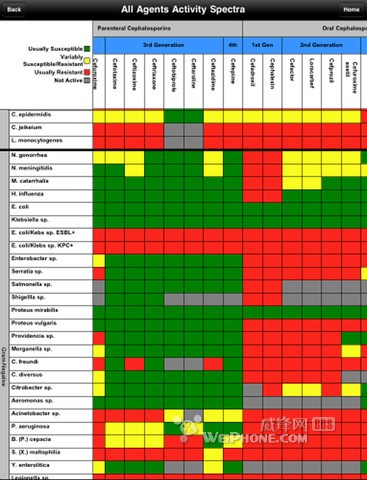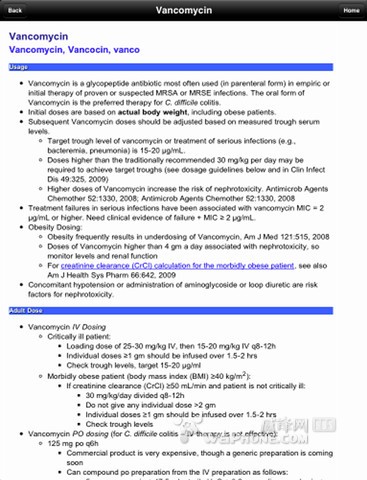 關於「The Sanford Guide to Antimicrobial Therapy 2011 iPad/iPhone版下載」的留言:
訂閱討論RSS

目前暫無留言

添加留言
更多醫學百科條目